Site Map     FAQ      Link       Contact     About
Electric Bicycle Warranty
The electric bicycle warranty is important. Obviously an insufficient warranty is a big red flag. But what exactly is insufficient?
Standard warranty nowadays for a good e-bike is - 1-year warranty on all components, including battery. Is it sufficient?
Motor & Controller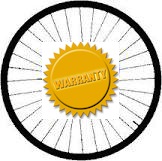 You have to get a good warranty for the motor and the controller. One year is the absolute minimum and two years and more is much more preferable.
Modern motors and controllers should, in theory, operate for a lot of years without any need for repairs or maintenance.
Battery
The battery will usually have the shortest warranty. Lead acid batteries typically get 6 months worth of warranty, Li-Ion batteries usually get 12-24 months.
Pay attention to the small words regarding the battery warranty because it can be expressed in several forms:
Warranty on only total failure. Reduction in performance is not covered by warranty.
Warranty on total failure and, in addition, the warranty covers a reduction of X percent in the battery capacity from its initial capacity (X=50% for example).
As a general rule, with Li-Ion batteries:
1 year worth of warranty is asking for trouble
2 years gives some peace of mind
3 years more or less covers the battery against premature failure
A lot of battery manufacturers (and in particularly - bike dealers) proudly advertise that their battery can sustain 1000 full charge and discharge cycles. 1000 cycles is enough for about 3 years of quite massive use, but they end up giving only one year of warranty. Why is this big difference? Don't they trust their own advertisements?
Because of that, when calculating the real e-bike price per mile, we have to enter into our calculation the cost of battery per mile which is based on the warranty offered and not based on the advertisement.
Other parts
The other parts (frame, gears, etc) should also be under warranty for at least two full years and preferably more, just like any other high quality bicycle. A fine electric bicycle with proper maintenance should serve you for many many years.
Other warranty issues worth considering
If you are going to buy an e-bike which you are going to use just here and there and for relativity short errands, you can compromise on buying a cheap e-bike with short range warranty but don't expect to get too much of a value from it
If you have bought your e-bike oversea, pay attention to the delivery costs in a case of a need for repair, replacement or inspection. It can be quite expensive to ship parts all around the world
Some warranties can be used for an exchange of a component only once
Check for 30-day money back guarantee option
Usually resist the temptation to go cheap. You probably won't be happy over the long run with a cheap e-bike, you will get frustrated and end up spending more money for the pair that you should have bought in the first place. Moreover, don't buy cheap electric bikes online without a warranty! If you have a warranty you will be able to get your e-bike repaired if something goes wrong (and there are good chance for that to happen).
Extended Warranty
A small number of e-bikes shops and manufacture offering an extensive warranty offer. This kind of offer usually comes under one of the following three terms:
Agree to a periodic service at a fixed cost throughout the warranty period
Montly payment without and periodic service
One time payment for extended warranty which will cover all parts except the battery
Examples of top of the line warranty offers
The Electric Transport Shop is offering a ten-year battery warranty, provided you agree to a six-monthly service at £40 a time - £800 over ten years. Failure is regarded as a 50% loss of capacity, and the shop only offers this warranty on selected batteries.