Site Map     FAQ      Link       Contact     About
Electric Bike Performance Standardization
The idea of a standardized test has been the norm in the car and motorcycle industries for years, and there is great need for standardization in the electric bicycles industry as well - where range is of great importance, and widely disputed.
The experience of many electric bike riders is that 'real world' range is consistently less by large percentages then the claims made by manufacturers. Therefore, we need standardization that every new model of electric bicycle will have to undergo before it can go on sale, just like the standardized mpg and CO2 measures for cars.
The tricky part is how to take in the human factor into account, since each one of us is able to put different amounts of power (the usual "average" rider information is obviously not enough).
The Light Electric Vehicle Association (LEVA) Performance Standard
LEVA has new universal performance standards for light electric vehicles.
Ed Benjamin, LEVA President has said: "The performance standards will help consumers choose an electric bicycle that meets their needs."
This is the first published standards for the global electric bike industry.
This Performance Standards Protocol includes:
A label attached to the e-bike
An annual guide with additional performance data and tips for improving range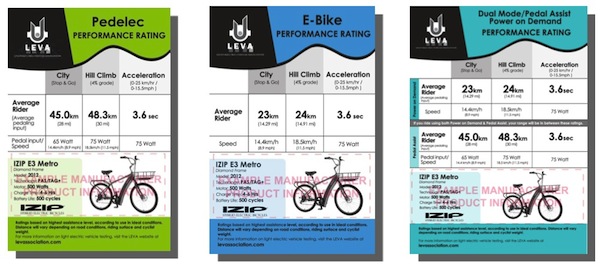 It provides information for consumers to compare and shop for electric bicycles and give direction to consumers and answer questions about e-bike performance.
Performance data is calculated on test bench using TripleS (Semi-Stationary Speed-up test) test protocol to ensure equal results for different e-bike models.
The performance data includes:
Simulated city course with multiple stop and go's, hills and wind
A simulated hill climb (4%)
An acceleration profile (0–18km/h)
The certification cost was set to: €1,300 EUR ($1,750 USD) per model type for Pedelec/Pedal-assist, E-bike/POD and Dual mode.
Manufacturers interested in becoming involved in the program, please contact:
Sid Kuropchak, Executive Director
Light Electric Vehicle Association LLC
Cell 1-703-622-8891
sidneyk@levassociation.com
To read further about standardization, continue on to: