Site Map     FAQ      Link       Contact     About
Build Your Electric Bicycle Company Page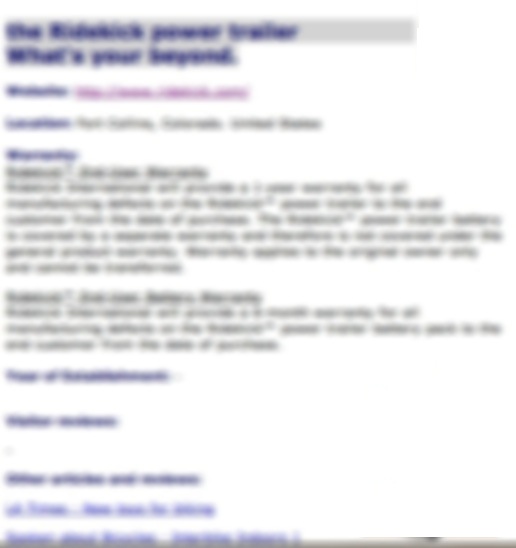 If you want to help me promote your electric bicycle business then you are at the right page.
In the electric bicycle reviews page, I've built a detailed database for all the electric bicycles, batteries and electric motors companies that I'm currently aware (if your company is missing, please contact me) of and each company has it's own unique page.


The default page is fairly basic. It contains the following:
Company name
Logo
Website address
Location
Warranty
Year of establishment
It also contains a "visitor reviews" section and "other reviews" section that includes reviews which I've came across over the Internet and magazines.
You can help me build a more informative and unique page for your electric bicycle company.
First of all, it's totally free. All you have to do is send me the texts, pictures, videos, reviews, etc, and I will build the page for you.
Also, you can build more then one page. Your main page will include links to the other pages. These subpages can be used for building individual pages for each one of your electric bicycles collection for example.
Here is an example for such a page: RideKick
Other special features that you can use:
A visual sideshow
Magnifying glass pictures
A timeline clip
Comparison tables
I will update on any of your page(s) updates (if any) on my bi-monthly e-zines. This is an absolutely free advertisement for you.
One last thing, you have to agree that I will remind you every 6 month to check your page(s) and update if nesscarry. I do this in order to keep the data as fresh and updated as possible. This is good for me and good for my visitors.
Do you want to build your company page on Electric-Bicycle-Guide.com?
If so, please fill out the form below.