Site Map     FAQ      Link       Contact     About
Electric Bicycle Trips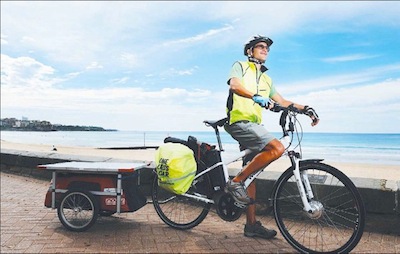 The Electric Bicycle World Tour
Bicycle trips are one of the most unique adventures one can have. Many people love bicycling just because of that, many are addicted to the adventure that their bicycle can offer them. No other style of traveling can beat traveling on a bicycle. You just experience much more on a bicycle then with any other kind of transport.
There are many different kinds of bicycle trips. Short weekends trip or month on month of cycling through a whole country. Challenging routes like mountain riding or more moderate cycling list cross-country riding.
Bicycle-adventure is an excellent resource where you will find anything you wish for and more regarding bicycle trips adventures.
Electric bicycles can add a lot for this unique experience and you can read about why should you take an e-bike with you to your next trip at the following link:E-bikes travel tips.
The aim of this page is to share different stories of different people and their electric bicycles. I hope you will find some great trip stories that will inspire you, educate your and enrich you.
Moreover, how would you know if a specific e-bike is suitable for a specific kind of trip. The e-bike manufacture may say so but I don't think that many of them have put their e-bikes in use under such conditions.
By learning from other people experience, you will also get to learn which electric bikes are best adequate to do the job. You will learn different techniques to take care of the electric components, and many other tips such as, how to charge the battery while on the go? Which tools should you carry with you?, etc...
And, of course, always remember, an electric bike is here to help you, augment your power, so even if the electric components gone completely dead, you can still pedal your bike! (and that something you obviously can't say about any other motor-vehicle) 
Continue on to:
Feelings, Touching stories, Inspiring moments - Click Here
How to plan your route? - Click Here
Which bicycle types and electric components are best suited for different kind of trips?
How to charge the battery while on the go?
How to take care of your electric components while on the go?
Tips on how to check in & out with your electric bike at the airport
Should you take your electric bike with you or rent one at your place of destination?
The packing list for you next electric bike trip