Site Map     FAQ      Link       Contact     About
Electric Road Bike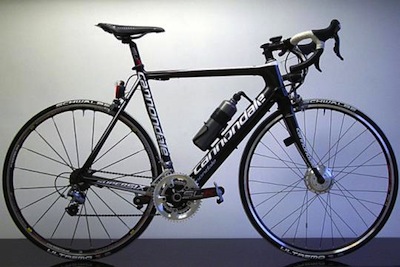 Is there a place for an electric road bike?
Road bikes are usually used by cyclists who really just want to cycle!
Unlike mountain bikes, where people want the excitement and thrill of the off-road and be more then happy to get some assistance, or unlike people who use comfort bikes or mopeds for urban commuting and just want a moderate physical activity and the change to get to their destination fast, avoid traffic and without breaking a swat, road bikes cyclists really wants to cycle.
I think there is. But, it must gives the same experience. It needs to be designed to be used with or without assistance. All in all, an electric road bike should feel, look, and ridden like a regular road bike.
It has to be light. Road bikes are all about low weight so an electric road bike can not weigh far above a typical road bike weight. Also, removing the battery and even the motor should be easy, accessible and quick to enable the rider to go out for a pure non-electric ride.
As for all e-bikes but especially in the case of an electric road bike, the motor has to add the minimum amount of friction. Riding without the assistance should be silent and smooth. Also, freewheeling is a must just like in any other road bike.
The aerodynamics considerations of the road bike is always at first priority. Aerodynamics and efficiency should always be in mind when designing the electric components for the electric road bike.
Therefore, a mongoose frame is a great solution.
But there is to be a balance though, we want to be able removing the battery so placing the battery inside the frame will make the removing process too tedious, if at all possible.
Road bikes have low air resistance due to the design and the body position. They are built to excel in this area. Because of that, it is important that the motor or any other electric component will have the minimum impact on the air resistance.
Cytronex designed the battery to look just like an ordinary bicycle bottle. There bikes doesn't look like they are electric at all!
Road bikes don't have suspension usually. Hitting even the smallest of bumps is noticeable. Road bikes riders know that they should raise their seats before hitting bumps and balance their weights on the pedals.
But the electric components in the electric road bike don't have any protection and they would probably absorb most of that collision energy. There isn't a lot to do about it except trying to avoid the bumps.
Not everyone are professional cyclists
Some cyclists do want the assistance for various reasons.
Maybe they want to be sure they will be able to get back home, maybe they want to cycle one way and get the assistance for the way back or maybe they ride with people who are in greater shape and they want to be able to keep pace with them.
It can also serves riders who wants to extend their range if they intend to go for a long road trips.

Twist & Go or Pedelecs?
I think that pedelec road bikes would tend to give the rider a better experience. After all, it's not so convenient and natural to use a throttle while riding.
Pedelecs augment the human physical power and also offer the ability to determine the right amount of assistance. It is just sound like the perfect solution for road bikes.
Road bikes are pretty fast even without the assistance. Come to think about that, road bikes are all about riding fast. Reaching the maximum speed permitted by law is doable by most riders even without the assistance of a motor.
A pedelec will cut the motor power as soon as you reach this maximum speed so it will mainly help you to accelerate from zero speed and when riding in steep hills.
I think that when riding in a non-urban place, the maximum allowed speed should be higher then the current permitted speeds but this is another story.
One Speed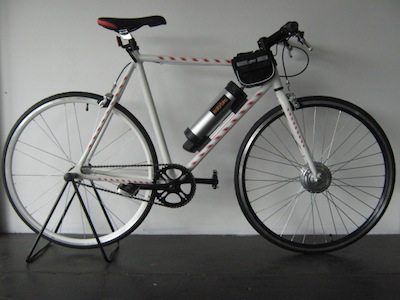 (Electric Fixi from Solarbike)
One speed road bikes (also known as fixie) are great for around town trips where riders need to start and stop a lot.
One speed road bikes will let you concentrate on the traffic. It's simple and you don't have to think about anything beside riding. It's probably better to be just so in a dense urban place where there is a lot of traffic, people and other obstacles.
Also, routine maintenance is simpler.
A lot of riders tend to prefer single speed bikes for their urban rides because it's more simple, the efficiency is higher because we don't loss anything in the transmission system and it's lighter.
But, hill climbing is a big minus for single speed road bikes. The ability to choose the right gear for the right terrain is what makes bicycles the most efficient vehicle in the world, that's the reason why they have so much gears!
Single speed cyclists have hard time riding steep hills but when using electric single speed road bikes you will get all the benefits from above without the hill climbing drawback.
Hill riding won't be efficient and the motor will have to work pretty hard, but hey, around town, you are probably won't going to face so many steep hills (and if you do, single speed may not be the best choice for you) so when you do, squeezing a lot of motor power juice is perfectly fine.
Return from Electric Road Bike to Electric Bicycle Types & Styles