Site Map     FAQ      Link       Contact     About
Electric Moped
There are many types of electric mopeds and it's not straightforward to define what is exactly a moped. The best thing that we can say, without offending any type, is that all mopeds have some kind of low power motor and they are usually limited to relatively slow speeds. Most mopeds can be both pedal-powered and motor-powered. But part of the modern mopeds don't have any pedals and may requires some sort of licensing.
On one hand, there are electric mopeds with large motors (up to even 5000 watts) which can reach speeds of 60-80 Km/h. On the other hand, mopeds with small electric motors (and small batteries) exists also. This kind of motor usually don't require license, can be ridden on both roads and streets and overall considered by the law to be just as any other electric bike.
I am going to talk solely about electric moped that don't require any licensing as this is the aim of the website and also what makes this kind of vehicles such a great option in my opinion. Click here to find the core values of this websites.
Moped can function as an alternative for commuters who look for a quick way to travel but don't want to pay high running costs for taxes, insurance, gas, parts, repairs and parking.
So it can provide economical and relatively safe transport with minimal licensing requirements.
So is it a bicycle?
Mopeds design, by and large, resemble bicycles designs with a slight change. They are part way between a motorcycle and bicycle and have a unique look of their own. Some mopeds have, for example, step-through frame design which is far from being a typical bicycle design.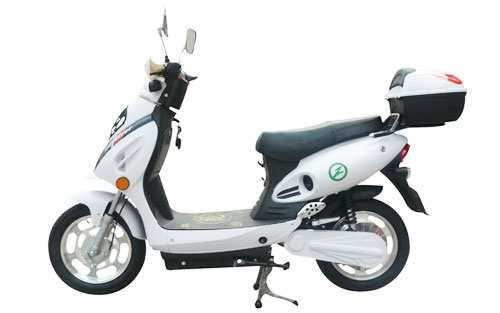 (eCruizer step through moped)
A step through frame let you rest your feet while traveling under electric power. You can pedal if you want to assist the bike, increase it's power and range.
A moped is not going to give you the same experience as a pure bicycle would.
It's less quick and agile. Jumping from streets to roads or any other stunt is out of question. It is much more a commuting vehicle then an adventurous or fun ride.
And of course you won't be able to do any mountain ride with this sort of bike.
Less maintenance
Quality electric mopeds require close to zero maintenance. There is no oil or any moving parts so there isn't really a lot of thing to take care off.
Many mopeds stores are alive because of the regular maintenance that gas mopeds require. One has to wonder whether their business would still strive if they would start to sell electric mopeds.
Target audience
First and foremost, mopeds are a suitable alternative to driving cars for short journeys where cars are least efficient.
Mopeds usually offer more comfort with it's upholstered saddle and you can also carry another person along with you.
It also has a built in luggage place like any other gas moped.
The electric moped riding experience can be quite relaxing. It's very quiet, non polluting and without any exhaust fumes.
Many mopeds have a retro style design so it can appeal to people who like this old fashioned style.
Teenagers can ride on them to and from school and any other place and release there parents from constantly driving them from one place to another.
The mopeds promotes a simpler lifestyle and it's also a green vehicle like any other electric bicycle. The regular trips to the petrol station will be a thing of the past and maintenance barely exist.

Optional pedals
Some mopeds have optional pedals. Meaning that the pedals can be on or not.
Depending on your place of living, the law may account low-powered vehicles with no pedals as e-bikes. But most countries do require working pedals.
But thinking about this issue for a moment raises a question mark. If this kind of vehicle is being promoted as being perfectly okay without pedals, do we really need them? Or more accurately, does the pedal will help us at all if we would decide to use them?
The phrase PINO come to mind, meaning that some mopeds are pedal in name only vehicles. And some mopeds are indeed quite heavy and using their pedals is far from being efficient.
Instead of the motor helping you, it's the other way around. You are helping the motor a little bit, because without the motor, driving this kind of vehicles will be quite impossible.
You should look for light mopeds which can be pedaled easily and comfortably if you want to pedal. And this brings me straight to the next point...
Try to avoid the  cheapest mopeds
If you are coming across an ad like this:
Tired of paying taxes? Tired of paying insurances? Want to avoid the high gasoline price. For less then 700$ you will get your dream moped that will solve all this problems.
Be careful and cautious.
It's not that is something wrong with wanting to save money and adapt a simpler lifestyle. But, 700$ or less is just too cheap.
Such mopeds will carry poor heavy lead acid batteries that will probably won't last for long and won't take you too far.
All the parts would be from a poor quality and the moped will be very heavy.
Most likely this kind of mopeds would be manufactured and designed in China.
Based on your circumstances, buying such moped could be the best choice for you. But you got to do your research first. Visit forums, ask other peoples, search the internet and use the mortar & bricks dealers reviews or online dealers reviews sections in this website.
Is it a toy?
In most cases when people heard the word: moped, an image of some sort of kid toy pop to mind.
But quality electric mopeds are serious vehicles that could be used for years and years.
Of course there are kids mopeds but there are also many full size adult mopeds that look quite the same as the gasoline mopeds and offer the same level of comfort and some other advantages as described above.
Return from Electric Mopeds to Electric Bicycle Guide