Site Map     FAQ      Link       Contact     About
Statistics and Trends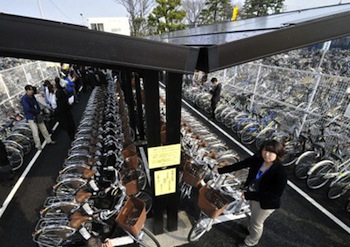 Sanyo solar electric bicycle charging station.
After retiring from his rule as Chrysler's chairman, Lee Iacocca founded e-bike company EV Global Motors in 1997. That company faded away when e-bike sales in America never lived up to Mr. Iacocca's vision of one million units per year. Lee Iacocca may have been simply ahead of his time.
In recent years, every form of transpiration vehicles has declined in there numbers except the electric bicycle.
A "Electric Two-Wheel Vehicles" 2009 repot by clean-tech market company Pike Research forecasts that more than 466 million electric bicycles and motorcycles will be sold worldwide during the period from 2010 to 2016. This numbers represents about 10% compound annual growth rate. Today, one in 7 bicycles sold is battery-assisted.
The Asia Pacific region in general, and China in particular, dominates and will continue to dominate the global electric two-wheel vehicle market with more than 95% of the sales during this next six years.
The annual global motorcycle market is currently around 80 million units a year, almost all of them based on the internal combustion engine, this anticipated explosion in electric bike demand could double the size of the two wheeled market, not to mention dampen the demand for electric four-wheelers.
The report forecasts that electric bicycles will be the largest category with 56% of the electric two wheel market, followed by e-motorcycles at 43% and e-scooters in a distant third place with less than 1%.
Let's leave China out of the game for a moment. In the chart below you can see that the sales of electric bicycle is going to double or even quadruple in almost every region of the world: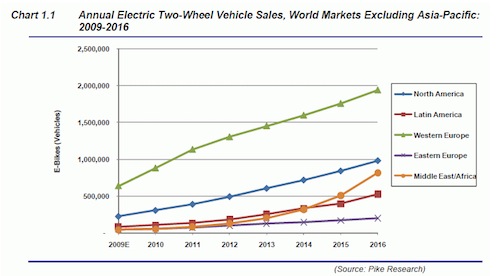 This kind of growth is maybe popular in the gadget world where rapid growth rates of new consumer products like the iPhone is relatively common. But in the transportation world, such a phenomena is not common at all. We are not taking here only about China, where most people are purchasing electric bicycles as their first mean of transpiration, we are taking here about massive amount of people that are moving from there daily car commuting to using new form of transportation. If this electric bicycle news will indeed come to reality, I think that it will be the biggest form of movement since the hype of the personal cars in the beginning of the last century.
Let's see now what rule electric bicycles are playing in the overall bicycle industry.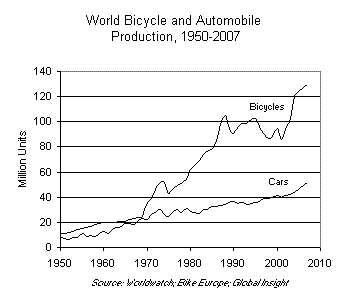 If you will take a look at the figure above, you will see that cars production and bicycles production tracked each other closely in the 1960s.
After that, they were separated sharply. In 2007, 130 millions bicycles were produced while only 52 millions cars have been manufactured.
Before the year 2000, there was quite a drastic decline in bicycle manufacturing. But in the last ten years the industry as a all regained steam and sales were increasing in an asonthinshong pace. Researches shows that most of this 10 years grow was fueled (maybe I should say replace the world fueled because no fuel was involved here - just electricity (-: ) by the electric bicycle production.
Overall, in real numbers, the bicycles productions has rise from 20 millions units a year in the 1970 to more then 120 millions unit today while the car industry numbers are way way back. 
Many new cities
The NY Times reports that it all began in China where an estimated 120 million electric bicycles now hum along the roads, up from a few thousand in the 1990s. They are replacing traditional bikes and motorcycles at a rapid clip and, in many cases, allowing people to put off the switch to cars.
While countries in the Asia Pacific region will continue to account for the vast majority of E2WV sales in the next several years, the fastest growth will occur in the Middle East (54% CAGR), Latin America (30%), and North America (24%).  
Examples:
India - 700,000 e-bike sales by 2011, up 483% from 120,000 in 2008. This is quite impressive given that it had virtually no sales at all in 2007.
Europe - 2.5 million e-bike sales, up 355% from 550,000.
United States - 500,000 e-bike sales, up 194% from 170,000. Best Buy began selling electric bicycles in June at 19 stores.
China - From 2008 to 2011, Chinese e-bike sales are expected to grow by 43% from 21 million to 30 million electric bicycles. China had 56,000 electric bikes in 1998 and it got to 120 million in 12 years. It is a phenomenal change, even in a country as populous as China.
Netherlands - A third of the money spent on bicycles last year went to electric-powered models. Similar growth expected in Germany, France and Italy.
E-Bikes are already a big trend in China so we have a proof that the above difficulties can be overcome. The develop world maybe stand against other barriers but with the right regulations, city design, technical progress and by putting money in the right places wonders can happen almost over night.
Return from Electric Bicycle Statistics to Electric bicycle news from around the world