Site Map     FAQ      Link       Contact     About
Biquattro
Tricycle or bike trailers are great for carrying big loads. The problem is that we have to haul it around all the time although most of the time we don't need this storage place.
The Biquattro concept may hold a solution: an electric bike that can transforms into an electric trike with a storage place.
So there have two kind of configuration:
1. Two wheels: This bike is just like any other electric bike.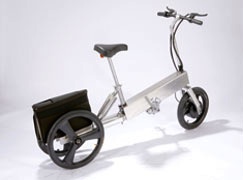 2. Three wheels: When a loading surface is needed to put shopping bags, luggage and etc. You just split the rear wheels and the two wheel bike transforms into a tricycle with a 150 liters (40 gallons) worth of trunk space (more than that of many small cars).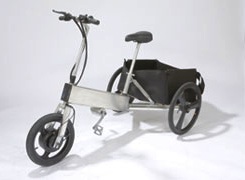 This concept e-bike has already won two design awards:
- Red Dot Award 2009
- International Bicycle Design Competition 2010
And If you want to see more schemes and pictures, here they are:
- Designboom.com
- Preaustriandesign.com
Return from Biquattro to Electric Bicycle Concepts