Site Map     FAQ      Link       Contact     About
Electric Tricycle (Trikes) and Electric Cargo
Carry massive loads
Electric tricycle usually have a cargo box built in between the two rear wheels. They are dedicated to carry massive loads and they do it better then bikes with a trailer.
They are heavier then other e-bikes so if you intend to use them, pick a big enough engine and if you are going to carry big loads and/or using the electric tricycle for hill climbing, pay special attention to the motor performance.
Be sure to have extra-low gears if you are going to do hill climbing. You will be glad for any extra low gear when a big hill is coming and you carry a lot of stuff behind you. (-:
Electric trikes comes equipped with two engines at both rear wheels or one engine at the front wheel. Again, consider the two back engines if you are going to carry heavy stuff.
Tipping and Balancing
When riding three wheels vehicles you don't have to worry about tipping over because no balancing is needed, so if you are nervous about riding a two wheel e-bike or if you forget or never learned how to ride a bike, this could be a good option for you.
Tip: to gain even more balancing you can lower the seat of the trike, it lowers the center of gravity which is especially helpful in the case of the electric tricycle.
Although you don't have to worry about balancing (great for people with disabilities), trikes tend to tip when turning at considerably high speeds. In non electric tricycles, the rider usually don't experience this tipping because he doesn't reach a high enough speeds but with electric trikes, it is a real problem.
Therefore, it is recommended to limit the speed below the speed of regular e-bikes. You should use a motor that will enable you to carry heavy stuff but won't take you too fast. A low-speed, high-torque motor. This is usually not the same motor used in e-bikes.
Recumbent electric trikes
A kind of twists to the traditional e-trike is the recumbent e-trike. It offer more comfort because of it's relaxed seat position and softer and wider seat. People who use e-trikes usually want this comfort because there trike is usually used for short traveling, shopping and etc. They don't need the speed of an electric road bike or the performance of an electric mountain bike.
Solar panels
Because of the big cargo box that is usually placed between the rear wheels, the e-trike is the perfect vehicle for using solar energy. There is enough place to put a big enough solar panel which will gain you extra miles and even help you get completely free and non-polluting transportation vehicle.
E-bikes can also use solar panels of course but the design are usually clumsy and the size is unproportional to the size of the bike. There are e-bikes that carry a solar trailer behind them.
Here is an example from India, where they used solar panel station to charge their rickshaws: Electric assisted rickshaws via solar power
The minivan trike
Brynnen Ford, pictured below, uses her trike as a minivan alternative. She drives carpool with it, hauling kids to and from elementary school over the steep hills of Seattle's central area. Before she electrified her cargo bike, the hills were too much. "I tried doing it last year without the electric assist and while sometimes I could do it, other times I would opt for the car . . . so I wouldn't die of exhaustion from carrying the kids up the hills. Now, I almost never opt for the car." (Quoted from: http://daily.sightline.org/)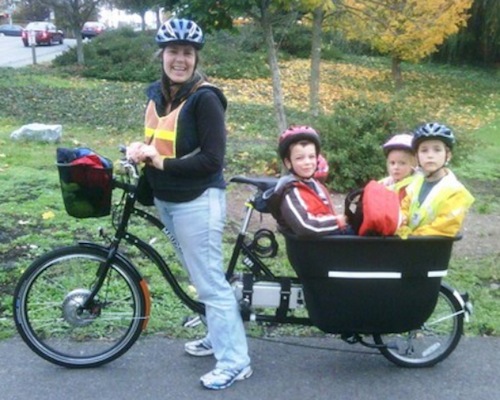 For conclusion
Electric trikes offer a couple of advantages over other electric bikes but also hold many limitations. You should obviously do your thinking before considering buying an e-trike.
Return from Electric Tricycles to Electric bicycles Types and Styles