Site Map     FAQ      Link       Contact     About
Rear Wheel Drive Conversion Kit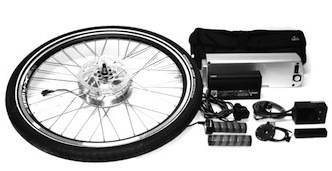 (eZee Kit)
Installing a rear wheel drive conversion kit kit is usually pretty straight forward. It is only slightly harder to install then the front wheel drive kit.
Before buying this kind of kit, make sure that the rear dropouts are wide enough to fit the motor. Different kits from different companies may require different dropout widths.
To read about the pros and cons of the rear wheel drive,click here.
Rear wheel drive conversion kits are not fitted specifically to any specific bike. It means that the gear ratio of the motor is not balanced with the bike gearing system. Because of this unbalance, pedaling at high speed can be not effective because you will just have to pedal ridiculously fast.
Also, because this kind of kit usually limit the bike to a maximum number of freewheels speed, you may have to do some slight adjustments to the derailleur if your bike originally had more speeds then what can be accepted.
Many bicycles with front aluminum fork are not suitable to front wheel drive kits. In a case like this installing a rear wheel kit can be a good solution.
Installation Steps
Turn the Bike upside-down and let the air out of the tire.
Loose the brake cables to remove the wheel from the frame.
Move the tire and/or tube from the old wheel to the new wheel if necessary. If the tire and/or tube are cracked or damaged in any way, it is probably a good opportunity to get new ones.
Put in the new wheel and align it in the slots. Pay attention to the wires, they have to point toward a specific side (look for the exact instruction in the installation guide.)
Inflate the tire pressure a little and check that the tire is evenly fitted around the rim.
Inflate more pressure and double-check the balance.
Inflate to the maximum pressure specified on the sidewall of the tire.
Return from Rear Wheel Drive Conversion Kit to Step 2 - Installing the motor