Site Map     FAQ      Link       Contact     About
Electric Dirt Bike
Electric dirt bikes have all the "regular" electric advantage like zero emission, no fuel, lower maintenance, lower running costs, etc. But there are a couple of more advantages that really distinct electric dirt bikes from gas powered dirt bikes.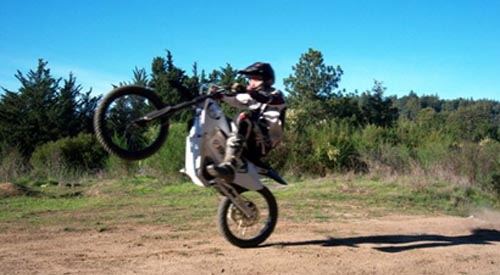 What are dirt bikes?
But let's first see what dirt bikes are all about.
Dirt bikes are light weighted motorcycles that are meant for traveling in rough conditions, like rutted, bumpy and uneven roads. Even very steep slopes and large potholes should not cause this bike from moving forward. Dirt bikes must have great endurance under very difficult conditions.
Therefore, they are equipped with parts that are able to cope with the rough riding conditions. Excellent suspension for absorbing the shocks, rugged tires for having maximum possible grip with the surface in order to maximize the traction and of course, high quality front and rear disc brakes for maximum stop power.
The engine is placed high enough to avoid the possibility of getting hit by rocks, pebbles and other road obstacles and the fuel source (gas-tank or batteries) is usually placed in the middle of the bike to achieve the best weight distribution.
Dirt bikes are also known by a variety of different names like trail bikes, motocross bikes and dirt road bikes so don't be confused by the names.
And I didn't even begin to touch the subject of dirt bike racing, but I'm far from being a dirt bike expert. This section is meant to be just a very plain and simple introduction. If you want to know much more, a great resource is: dirtrider.com.
Absolute silence
Dirt bikes are noisy, some would say that it's part of what dirt bikes are all about, it's part of the ride and part of the adventure.
Electric dirt bikes are the absolute contrast to the gas-powered dirt bikes, they are extremely quiet.
In some places, gas-powered dirt bikes are not allowed due to their high level of noise. Places like neighborhoods or nature reserves are usually not allowing this kind of dirt bikes to enter.
Electric dirt bikes on the other hand, being virtually silent, can open up new places for riding which weren't allowed before.
Moreover, although the noise is part of the tradition and part of the excitement, maybe even pro dirt bike cyclists will find out that a less noisy bike will boost their performance.
Torque
High torque is something that people love to mention when talking about electric motors and for a good reason. Electric motors produce a high percentage of it's torque right from the start up until very high speeds, as contrast to gas powered engines.
This torque performance offers dirt bikes an advantage, in theory, when riding over ruff terrines, bumpy tracks and loose surfaces.
Also, it simplifies the transmission mechanism of the bikes. Instead of using multiple gear transmissions, you can use just one without losing too much.
This simplicity is an advantage when building dirt bikes for kids which suppose to be low maintained, simple and relatively cheap.

Fast removable battery
A dead battery can simply be removed and replaced by a fully charged one within seconds. You can carry multiple batteries with you to the track and replace when needed. You don't have to worry about charging it or worry about filling the gas-tank like in the case of gas powered dirt bikes.

Allowed on sidewalks
This website purpose is to discuss and promote the electric bicycle world and also every other electric vehicle which doesn't require any license, insurance or paying any other taxes.
Dirt bikes are obviously not belong to this category. Even electric dirt bikes are not exactly belonged here because they are heavy vehicles which able to reach really high speeds with just crazy acceleration.
But! Most of the electric dirt bikes comes featured with the ability to control the acceleration and to limit the top speed. You basically just need to push a button, flip a switch or something in that manner in order to switch the mode of the bike from low and high, or economic to sport.
In the economic mode, the electric dirt bikes becomes civilize and according to the law in some countries, this kind of dirt bikes can be considered like regular electric bicycle.
So you can have a civilize version for a day to day commute and an angry version for off-road riding. Gas powered dirt bikes just can't be adjusted in that way. 
Kids
As I wrote before, the simplicity of the electric dirt bikes made it very attractive for the kids dirt bikes worlds. Click here to read further about it.
Return from Electric Dirt Bike to Electric Bicycle Types