Site Map     FAQ      Link       Contact     About
Electric Bicycle Police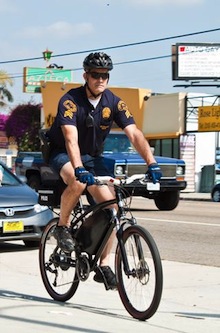 A couple of police departments which are located in major cities around the world are using e-bikes as part of their community policing.
In California, the police forces are using theCurrie electric bikes.
In London, the Wisper electric bikes are being used.
An electric motorbike is being used by the police squad at Scotts Valley, California.
Chicago' police department also have a fleet of electric bikes.
Rayos also offers an e-bike model for the police force.
Montague Paratrooper™ bicycle is famous for the fact that it is used by various divisions of the USA military. The E+ Tidalforce M-750 X2.0 Limited Edition is an electric bike which is based on the folding Montague Paratrooper™ frame and maybe someday will also gain it's place in the military forces.
Return from Electric Bicycle Police to Who Is It For