Site Map     FAQ      Link       Contact     About
Electric Bicycle Myths
Myth #1 - e-bikes are for lazy people
Some e-bikes have throttles which allow the rider to move forward without any pedaling, other pedelec e-bikes won't move without the rider pedaling. Either way, most riders eventually end up pedaling anyway. Except the exercise benefit of pedaling, it also increases the range and the speed.
Adding a small electric motor to a bicycle is a great way to flatten out the hills or heavy winds. It allows regular people to use their bicycle to get from A to B in most of their travels (which they otherwise won't able to make) instead of burning gasoline in other heavy vehicles.
Myth #2 - e-bikes riders are cheating
Most e-bike riders aren't out-there to race. It just regular people that use their e-bike to get from A to B, they usually just want to enjoy their ride, not to compete with anyone. So who are they cheating against exactly?
Myth #3 - e-bikes are risky
There is no any actually evidence for any increased risk involve with riding an e-bikes.
The dangerous element of cycling is usually involve the risk of getting hit from other heavy vehicles. It is demonstrated in cities all around the world that when cycling traffic increase, the accident involving cyclists decrease.
If anything, e-bikes are safer then conventional bikes. They can maneuver and accelerate faster from any suppose range and they help cyclists to keep pace with the traffic.
Myth #4 - e-bikes are just the same as electric moped
An e-bikes is basically just a conventional bike with an electric motor attached to it.
Let's compare why an e-bike is certainly not an electric moped:
Electric Bikes
Electric Mopeds
35-40Kg
100Kg
250-750Watt
2000Watt and up
15-20 mph motor cut
30mph and up
Pedaling contribute meaningfully
Hardly noticeable if at all
(pedals are just symbolic)
Pedaling extend range
Pedaling doesn't matter
Must pedaling to go up hill even on full power
Pedaling doesn't matter
Looks like a bicycle
Looks more and more like a lightweight motorcycle
(sometimes odd motorcycle)
Great rolling resistance and low air resistance
Terrible rolling resistance
Lot of gears
Usually geared unusably low
(for pedaling)
Pedals are right in the right place
Pedals position is usually strange
Pedals are key elements
Pedals are there just to make it legal as a moped
Myth #5 - e-bikes take away any exercise benefit
The graph below consists of two parts:
The crank power, this is the power of the rider legs (for simplification, let's assume that the left and the right legs have identical power)
The extra motor assistance power
The horizontal axis describes the position of the crank, starting at the top. 
The vertical axis is the overall power (rider+motor).
The numbers at the side (0-100%) describe the amount of the motor assistance. In case of a pedelec, it is the assistance level.
Each assistance level keeps the e-bike at a constant speed (in good quality pedelec), it makes the ride fell smoother and enjoyable. If the rider put more power then the power of the assistance level setting, then the assistance goes to zero.
In the case of a power-on-demand system, it is obviously pretty hard to adjust the state of the throttle to achieve a constant speed like what you would get from a high quality pedelec.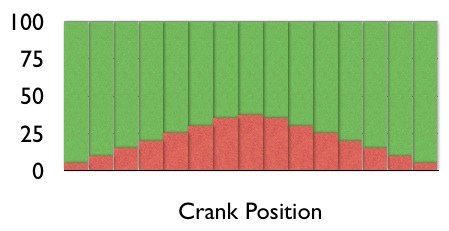 Myth #6 - e-bikes are for old people or unhealthy people
It's true that many e-bikes are targeted towards older people but these days there are plenty of other models being sold. Urban electric bicycles, mountain electric bicycles. Just name the bicycle type and there is a electric version of it.