Site Map     FAQ      Link       Contact     About
The Copenhagen Wheel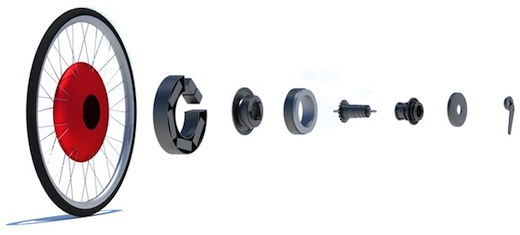 The Copenhagen Wheel is an amazing concept that enables almost any bicycle to be transformed into an e-bike within minutes.
It was unveiled at December 15, 2009 and recently it reached the final of the James Dyson design awards
It also has a very nice and informative website. Here is a quote from there that explains beautifully what this concept is all about:

"The Copenhagen Wheel turns the bike you already own, quickly and easily intoan electric bike with regeneration and real-time environmental sensing capabilities.The wheel harvests the energy you input while braking and cycling and stores it forwhen you need a bit of a boost. At the same time, sensors in the wheel are collectinginformation about air and noise pollution, congestion and road conditions.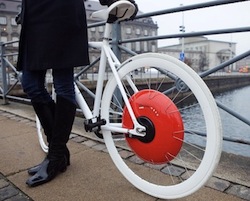 The Copenhagen Wheel differs from other electric bikes in that all components areelegantly packaged into one hub. There is no external wiring or bulky battery packs,making it retrofittable into any bike. Inside the hub, we have arranged a motor,3-speed internal hub gear, batteries, a torque sensor, GPRS and a sensor kit thatmonitors CO, NOx, noise (db), relative humidity and temperature. In the future,you will be able to spec out your wheel according to your riding habits and needs.
Live in San Francisco? Add more battery power.Interested in real-time applications? Increase the number of sensors.
Lastly, the wheel is controlled through your Smart Phone and becomes a naturalextension of your everyday life. Simply place your phone on the handlebars, andits Bluetooth module syncs with the Bluetooth module in the hub of the Copenhagen Wheel.You can then use your phone and our Copenhagen Wheel Application to unlock and lockyour bike, change gears, select how much the motor assists you and for viewingrelevant real-time information."
And here is a link to the website: The Copenhagen Wheel
and also a short video:
Return from The Copenhagen Wheel to Electric Bicycle Concepts