Site Map     FAQ      Link       Contact     About
Volkswagen Bik.e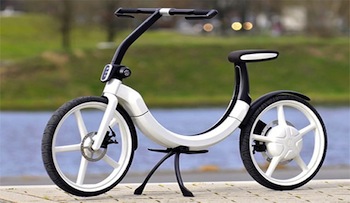 Volkswagen (VW) has developed an electric bike with the concept name - VW Bik.e.
This unique bike folds down into the spare tire compartment of your car's trunk. As you drive along in your car, it will charge the battery of the bike so when you'll arrive to your place of your destination the bike will be fully charged.
The idea is that you will be able to take your car to the outskirts of the city, park there, and then unfold the bike and start your city personal-micro-trip. The bike general features:
Lithium-ion battery which is located inside the frame
Fold down into a size of a car regular spare tire compartment

There is a big change that this concept will have to move from the concept page to the brands page because apparently, the company is actually having serious intention to actually sell this bike or maybe even offer them as an added option to new cars sales. 

Here is a short clip from the "Chinese auto show" where VW reviled the B.ike:‬
And here is what Dr. Ulrich Hackenberg (Volkswagen's Research and Development Chief) says:

"The e-bike can be folded up and stowed conveniently in the luggage compartment or on the spare wheel in the back, with no restriction of the capacity available. So you can take additional mobility along with you. For example, to reach particular destinations in town or to remain mobile in your leisure time when you have to park your car somewhere…
We have a special company within our organization that sells all kinds of products, supplementing our cars… This team is currently looking at this vehicle and is establishing a viable business case." 

This is a truly innovative idea but I can certainly see a couple of issues with this bike. Let's look at the list of features again:
Lithium-ion battery which is located inside the frame - Great, no problem here.
Fold down into a spare tire compartment size - Great!
12.5 miles on a charge - This is quite low when comparing it to other electric bikes on the market.
12.5 miles per hour - Again, this is also quite low. Usually, modern electric bicycle are getting restricted to a maximum speed not because of poor technology but because of laws and regulations.
No Pedals ‫-‬ two problems here:
No pedal assistance means that if you run out of juice (battery empty) you are going to be stuck. Also, you can't help the bike accelerate from stop and prolong the basic range of motor only operation (12.5 miles). It is certainly lack an important advantage that a full e-bikes (with pedals) would have.
There could be an issue ‫whether‬ this concept complies with the EU regulation or not. Th EU regulation states that any e-bike must have pedals and the motor can't operate without pedaling.
Return from Volkswagen Bik.e to Electric Bicycle Concepts