Site Map     FAQ      Link       Contact     About
Hertz
What do you think about the idea of renting an electric bicycle from a well-known car rental company?
Also, would you consider to get an electric bike instead of a courtesy car when your car is being fixed?
Below is an example of such an offer from Hertz:

Hertz, the world's largest general use car rental brand, offers to customers to rent an electric bike in Spain and London.
Michel Taride, President of Hertz International, said: "We are very excited to introduce our electric bike offer to Spain following the successful London launch, enabling customers to explore tourist destinations not far from the sea and countryside in an exhilarating way. We are always committed to providing our customers with a range of mobility solutions. With the electric powered bikes, customers can cover even more ground than simply by touring on foot or using a traditional pedal bike."
Spain
In spain, there is a choice of nine different Swiss Flyer electric bikes that are available for 24 euros a day when booked at least 24 hours in advance, or 28 euros for booking on the same day.
This e-bikes are equipped with Lithium-ion batteries that support travel at up to 25 kilometers an hour, with a range of 85 kilometers. The services comes with full training, a helmet and road safety vest to ensure customers feel at their safest when exploring tourist destinations.
Click here for a larger map
For more information, call 00 34 902 570 133 or log on to: www.electricbikes.es/hertz/
London
In London, Hertz offers the Ultra Motors electric bikes.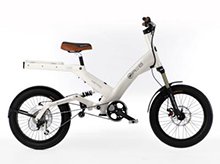 The London electric bikes travel at a maximum speed of 15.5 mph and can be rented at a day rate of £20.
Customers receive full training, a lock and helmet, as well as a copy of the AA Leisure Guide to London with suggested bike routes around the capital.
Mr Taride told Springwise: "Whether you're a Londoner wanting to explore hidden treasures or find new places to shop, or a tourist wanting to see all London has to offer, the Ultra Motor bikes are a fast, green and economical mode of transport. We are pleased to offer electric bikes for an easy and fun way to explore the capital."
For more information, log on to: www.hertz.co.uk