Site Map     FAQ      Link       Contact     About
Rat Rod Chopper Trike
by Mike
(upstate NY)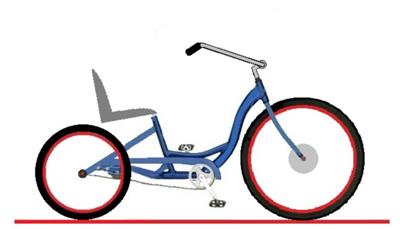 amature preliminary drawing
First of all ya have to understand that I am disabled on SSI (poor). I hava Pride scooter, it's nice, gel tires, front, rear & seat suspension, fully adjustable seat, lights, modified front basket, homemade rear basket, aero twin scooter mirrors, but it only goes 5mph.

I have collected a 90% intact Currie Scoot-e and an 100% intact Autobike, which actually works great. Total investment, so far $60. I am having a rough time finding a trike and am thinking about mounting the motor on the Autobike. It has a freewheeling crank set, so the bike can slip back in to 1st gear as ya coast to a stop. The rear wheel does not freewheel. I've seen bikes with a motor attached to the chain between the crank & rear wheel and they use a freewheeling crank.

Back to the trike. Plans call for the autobike rear wheel on the front and hooking the motor to it. On the rear, there will be 20" wheels with coaster brakes. The seat will be some type of saddle/tractor seat/mobilty scooter seat. Paint will be rat rod flat black with red striping.